Las Cruces Chiropractor : Dr. Edward Richardson
Chiropractic Career Launched in 8 Seconds!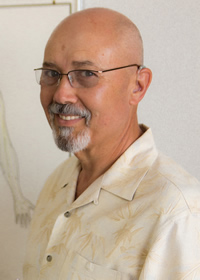 My buddy Danny says to me, "We otta enter this bull ridin'." And the crazy kid that I was, said "Heck yeah!"
Well as you can imagine, there was some patching up to do after that event and my dear mother, smart woman that she is, knew just where to take me. My first exposure to chiropractic was like that of a lot of folks I suppose. Doc got me 'back in the saddle' again and again as it were. Though the seeds for making chiropractic my profession were planted back then, it wasn't until a few years later that they really took root when my chiropractor became my father-in-law. Having this behind the scenes exposure to chiropractic made it easy to envision myself in such a role.
Chiropractic Education
A life long New Mexico resident, I received my undergrad requirements from New Mexico State University and in 1982 headed for Cleveland Chiropractic College in Los Angeles, CA. Orientation was my "this is it' moment and when Dr. Carl Cleveland so passionately explained homeostasis, I was hooked. By the second trimester I was on the Dean's List, and committed to staying there.
While I will not say for one minute the curriculum was easy, I was supercharged with the excitement of learning about the human body and the naturalness of chiropractic as a healing art. After graduation in 1986, I moved back to Las Cruces to put into practice what I had learned. Which as most of us know is never enough, so I was back in the class room on weekends studying chiropractic orthopedics (Board Eligible in 1991) and advanced training in Thompson and Activator adjusting techniques. My continuing education focus is on rheumatological and myofascial diseases, diet, exercise and cellular nutrition.
My Family
Jodi Lea, my wife and partner now for over 37 years, and I have enjoyed 'dabbling' in many hobbies over the years. Early on, most of our spare time was spent horseback; riding and competing in both Western and English disciplines, hunting, fishing and camping. These days we like traveling to remote destinations, hiking, biking, relaxing and experiencing the natural wonders of the world. I currently serve on the NM Masonic Charities Board and am a Rio Grande Chapter DeMolay Dad. Most notably we have raised two wonderful children, Jennifer and Justin who have pursued their own education and careers, married and given us the greatest of all joys, grandchildren.
I consider myself an excellent listener, able to recognize each patient as an individual and hope I get the opportunity to meet you in person and discuss your specific health challenge. Call Chiropractic Caring For You at (575) 524-0400.